I am thrilled to announce the publication of my biography of Mary Macarthur by  History West Midlands. In 1921 this brilliant and charismatic trade union leader died, aged just 40. In her short life, her activism and leadership had been responsible for raising awareness of women's poor working conditions and encouraging them to speak out against injustice and inequality.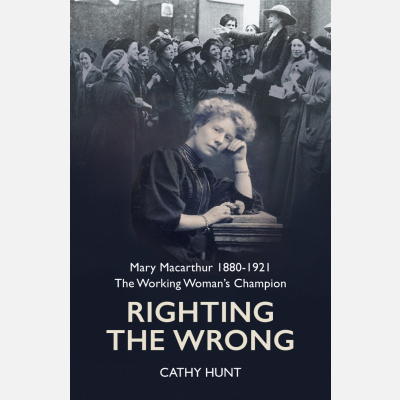 Mary Macarthur is perhaps best known for the prominent part she played in the women chain makers' strike in Cradley Heath, Staffordshire in 1910. This heroic dispute ended with the women receiving the minimum wage that was theirs by right. It was a triumph, but by no means an isolated one. Mary Macarthur, as leader of the country's all-female general trade union, the National Federation of Women Workers, travelled the length and breadth of the country making sure that women's lives were improved by better pay and working conditions and union membership.
This biography seeks to understand what motivated this extraordinary individual and why she chose the path that she did, particularly at a time when it was still far from common for a middle-class woman to appear on public platforms. In other words, this is not just an account of Mary the union leader but of Mary the woman – of her travels and friendships, love and marriage, family and motherhood – all explored within the context of her times. 
Do have a read of this recent review of the book:
Righting the Wrong
Mary Reid Macarthur is one of the most inspirational and important figures in the history of women's trade unionism, who before, during, and just after the First World War tirelessly championed the causes of exploited workers and fought for a legal minimum wage. The only previous biography of her, by Mary ("Molly") Agnes Hamilton, appeared as long ago as 1925, and, with the centenary of her tragically early death (1 January 1921) approaching, a new account and appraisal of her life, career, and legacy was badly needed. Great gratitude is due to Dr Cathy Hunt for filling this gap, and for doing it so excellently. She is a leading expert on the history of women's trade unionism in Britain, and she has meticulously researched every aspect of Macarthur's life and work in preparation for the writing of this authoritative and sympathetic study, telling the remarkable story of a very great and very widely respected and loved woman and illustrating it with a splendid selection of photographs.
Martin Ferguson Smith
(Author of Madeleine Symons: Social and Penal Reformer, Bristol, 2017, about a close colleague and friend of Macarthur)
6 January 2020
'Righting the Wrong' can be ordered here 
Some more of my writing:
Books
A History of Women's Lives in Coventry, Pen and Sword Publications, 2018
The National Federation of Women Workers, 1906-1921. UK: Palgrave Macmillan. 2014
Reviews:
June Hannam, Labour History Review, Volume 80, Number 2, 2015, pp 208-10:
'This is a graphic and often moving account of the low pay, long hours, and, in many instances, dangerous working conditions experienced by women who faced hostility from male workers as well as from employers'.
Sarah Hellawell, Economic History Review, Volume 68, Number 2, May 2015:
'This well-written book provides an original account of women's trade unionism and joins the growing historiography that links labour and women's history to illuminate the hidden lives of working women in twentieth-century Britain'.
Alice Arnold: A Woman of the People, 1881-1955, Coventry Historical Association, 2008
And some articles and chapters…
'Gertrude Tuckwell and the British Labour Movement, 1891–1921: a study in motives and influences'. Women's History Review 22 (3), 478-496. 2013
'Binding Women Together in Friendship and Unity? Mary Macarthur and The Woman Worker, September 1907 to May 1908'. Media History 19 (2), 139-152. 2013
'Sex Versus Class in Two British Trade Unions in the Early Twentieth Century'.Journal of Women's History 24 (1), 86-110. 2012
'Dancing and Days Out: the Role of Social Events in British Women's Trade Unionism in the Early Twentieth Century'. Labour History Review 76 (2), 104-120. 2011
' "We are Going Strong Like the Tanks"; Coventry Women Workers and Trade Unions in the First World War' in Against All Odds, The Women's Research Group, 2011
'The fragility of the union: the work of the National Federation of Women Workers in the regions of Britain 1906-14'. In Class and Gender in British Labour History: Renewing the Debate (or Starting it?). Ed. by Davis, M. London: Merlin Press. 2011
'"Everyone's Poor Relation": the poverty and isolation of a working class woman politician in inter war Britain'. Women's History Review 16 (3). 2007
'"Tea and Sympathy": a study of diversity among women activists in the National Federation of Women Workers in Coventry, England, 1907-14'. International Labor and Working Class History Journal 72. 2007
'"Success with the ladies": an examination of women's experiences as Labour Councillors in interwar Coventry'. Midland History xxii. 2007
'"Her heart and soul were with the labour movement": Using a Local Study to Highlight the Work of Women Organisers Employed by the Workers' Union in Britain from the First World War to 1931′. Labour History Review 70 (2), 167-184. 2005
'"A Little Too Nice": the National Federation of Women Workers in Coventry 1907-1918' in Women's History Magazine, 43, March 2003, 15-19