I am delighted to introduce a podcast recorded by History West Midlands, in which I share some stories of women's every day life in Coventry between 1850 and 1950. These are drawn from my recent book, A History of Women's Lives in Coventry 1850-1950 published by Pen&Sword For those who live in the Coventry area, the book is also available at The Big Comfy Bookshop in Fargo Village, Waterstones (city centre and Leamington) and Earlsdon Post Office, and is priced at £14.99.
I also have a short piece on the wonderful 'Sheroes of History' women's history site about Alice Arnold, Coventry's first woman mayor. You can read it here along with lots of excellent blogs contributed by authors about many truly remarkable women. If you enjoy the Alice Arnold blog, later this year I will be writing an article for History West Midlands about Coventry's first women councillors. Autumn 1919 marks the centenary anniversary of the election of two brilliant pioneers – Alice Arnold and Ellen Hughes. It is easy to overlook local politicians and yet they are the ones who often make the biggest difference to our communities and to the quality of our lives. I will be paying tribute to the first elected women and also to the other women who served on Coventry City Council in the years before the Second World War. Their contributions had an enormous impact on the lives of Coventry's citizens and their experiences of work, politics and womanhood brought new and valued perspectives to the Council Chamber. 
I am thrilled to announce that this summer my biography of Mary Macarthur will be published by History West Midlands. In 1921 this brilliant and charismatic trade union leader died, aged just 40. In her short life, her activism and leadership had been responsible for raising awareness of women's poor working conditions and encouraging them to speak out against injustice and inequality.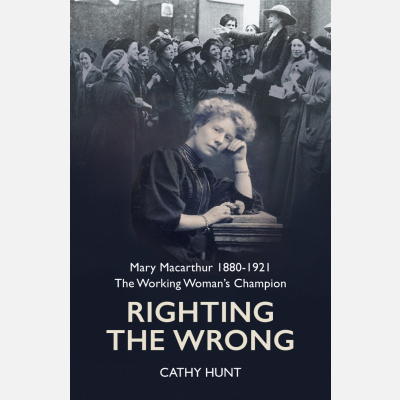 Mary Macarthur is perhaps best known for the prominent part she played in the women chain makers' strike in Cradley Heath, Staffordshire in 1910. This heroic dispute ended with the women receiving the minimum wage that was theirs by right. It was a triumph, but by no means an isolated one. Mary Macarthur, as leader of the country's all-female general trade union, the National Federation of Women Workers, travelled the length and breadth of the country making sure that women's lives were improved by better pay and working conditions and union membership.
This biography seeks to understand what motivated this extraordinary individual and why she chose the path that she did, particularly at a time when it was still far from common for a middle-class woman to appear on public platforms. In other words, this is not just an account of Mary the union leader but of Mary the woman – of her travels and friendships, love and marriage, family and motherhood – all explored within the context of her times.
I look forward to sharing my research journey on my website once the book is published. In February, I was interviewed by Jenni Murray on BBC Radio 4's Woman's Hour about Mary Macarthur. I was invited to be on the show with Bryony Purdue, who is currently playing Mary Macarthur in a touring folk opera called Rouse Ye Women, by Townsend Theatre Productions. This is about Mary Macarthur's involvement in the 1910 women chain makers' strike in Cradley Heath and it is a truly inspirational, powerful and deeply moving play which has got some brilliant reviews. I was delighted to be with the cast at Greenwich Theatre in February for a post-show chat about Mary Macarthur.
For the chance to hear Bryony beautifully performing a song and an excerpt from Rouse Ye Women, plus some background from me about Mary Macarthur, catch us on this episode of Woman's Hour,  here
I am very much looking forward to talking about Mary Macarthur at the Chain Makers' Festival on Saturday July 6th in the Mary Macarthur Gardens, Cradley Heath. This is an event which I love attending and which raises the profile of all women workers fighting for a better day.
Mary Macarthur
Some more of my writing:
Books
A History of Women's Lives in Coventry, Pen and Sword Publications, 2018
The National Federation of Women Workers, 1906-1921. UK: Palgrave Macmillan. 2014
Alice Arnold: A Woman of the People, 1881-1955, Coventry Historical Association, 2008
And some articles and chapters…
'Gertrude Tuckwell and the British Labour Movement, 1891–1921: a study in motives and influences'. Women's History Review 22 (3), 478-496. 2013
'Binding Women Together in Friendship and Unity? Mary Macarthur and The Woman Worker, September 1907 to May 1908'. Media History 19 (2), 139-152. 2013
'Sex Versus Class in Two British Trade Unions in the Early Twentieth Century'.Journal of Women's History 24 (1), 86-110. 2012
'Dancing and Days Out: the Role of Social Events in British Women's Trade Unionism in the Early Twentieth Century'. Labour History Review 76 (2), 104-120. 2011
' "We are Going Strong Like the Tanks"; Coventry Women Workers and Trade Unions in the First World War' in Against All Odds, The Women's Research Group, 2011
'The fragility of the union: the work of the National Federation of Women Workers in the regions of Britain 1906-14'. In Class and Gender in British Labour History: Renewing the Debate (or Starting it?). Ed. by Davis, M. London: Merlin Press. 2011
'"Everyone's Poor Relation": the poverty and isolation of a working class woman politician in inter war Britain'. Women's History Review 16 (3). 2007
'"Tea and Sympathy": a study of diversity among women activists in the National Federation of Women Workers in Coventry, England, 1907-14'. International Labor and Working Class History Journal 72. 2007
'"Success with the ladies": an examination of women's experiences as Labour Councillors in interwar Coventry'. Midland History xxii. 2007
'"Her heart and soul were with the labour movement": Using a Local Study to Highlight the Work of Women Organisers Employed by the Workers' Union in Britain from the First World War to 1931′. Labour History Review 70 (2), 167-184. 2005
'"A Little Too Nice": the National Federation of Women Workers in Coventry 1907-1918' in Women's History Magazine, 43, March 2003, 15-19