I am absolutely delighted to be able to share some reviews of my recent biography of Mary Macarthur (publication details below).
This one appears in Open History, May 2020 
A note from me:
The reviewer (rightly) draws attention to an anomaly on page 36 of the book. This refers to Mary Macarthur's salary when she was working for the Women's Trade Union League. At the final stages of book production, an extra digit crept in unannounced and undetected, changing the intended figure of £104 3 shillings and 4 pence to £1104 3 shillings and 4 pence.  A genuine mistake and clearly just one of those things, but hugely frustrating for any author to find mistakes in their work. It just goes to show that however many times work is proofed, things can still be missed. Today, this is of no comfort to me at all. Tomorrow (or the day after) some perspective will return.
Here is another review, this one written by historian Professor Martin Ferguson Smith
Righting the Wrong
Mary Reid Macarthur is one of the most inspirational and important figures in the history of women's trade unionism, who before, during, and just after the First World War tirelessly championed the causes of exploited workers and fought for a legal minimum wage. The only previous biography of her, by Mary ("Molly") Agnes Hamilton, appeared as long ago as 1925, and, with the centenary of her tragically early death (1 January 1921) approaching, a new account and appraisal of her life, career, and legacy was badly needed. Great gratitude is due to Dr Cathy Hunt for filling this gap, and for doing it so excellently. She is a leading expert on the history of women's trade unionism in Britain, and she has meticulously researched every aspect of Macarthur's life and work in preparation for the writing of this authoritative and sympathetic study, telling the remarkable story of a very great and very widely respected and loved woman and illustrating it with a splendid selection of photographs.
Martin Ferguson Smith
(Author of Madeleine Symons: Social and Penal Reformer, Bristol, 2017, about a close colleague and friend of Macarthur)
Here is a review written by James Bargrave Deane, Mary Macarthur's grandson. James and his family were incredibly supportive throughout my research and it means a very great deal to me to know that they are happy with the end result!
This biography has been of high personal interest as reflects an account of the life of my maternal Grandmother and they work she and others did. Her daughter Nancy (my Mother) orphaned at 4 years of age rarely spoke of her and so her children grew up knowing very little. Family research over the last 10 years has revealed a certain amount but Cathy has crafted a most detailed account with research that is positively overwhelming and has put the author at the very top of sources for this enlightening account of a remarkable young woman who tragically died at an early age but achieved so much. I write this review with great pride; it is a story well worthy of sharing.
Reviews of books should not only reflect on the book but also the author. Cathy clearly has an inherent interest in her subject thus managing to capture a uniquely human perspective on what could be termed by some as easily side-lined and thus unappreciated endeavours of many in those days long ago. She has managed to include the dynamics of poverty, struggle, tears and laughter, romance, relationships, tragedy, sadness and much more besides into a compact and easy to read narrative on the many challenges faced in those past years. Many of those challenges continue to be faced in the 21st Century. Cathy has provided a link between these periods thus of significant relevance in modern days in terms of social structure, welfare in the home and at work. Mary Macarthur as well as others played a major part as pioneers of our social system of which her Trade Union activities in particular is at the heart of the matter.
Especially impressive is how Cathy has presented, delivered and conveyed a remarkably illustrative commentary allowing the reader to absorb a good 'feel' and understanding for the past. She has succeeded in encapsulating an impressive array of contemporary accounts allowing Mary Macarthur to be heralded as a brilliant negotiator with such charm she could also express rewarding defiance in the face of overwhelming odds.  "Righting the Wrong" is truly an authentic examination and a fitting and unforgettable tribute to all those who played a positive part in tackling the need for a better life. Mary Macarthur herself would be very proud to be acknowledged as such. Her Family are more than equally proud of both Book and Author.
This is a "must read" and highly recommended.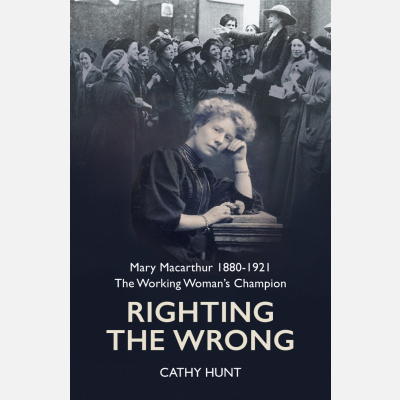 My biography of Mary Macarthur was published in October 2019  by  History West Midlands. In 1921 this brilliant and charismatic trade union leader died, aged just 40. In her short life, her activism and leadership had been responsible for raising awareness of women's poor working conditions and encouraging them to speak out against injustice and inequality.
Mary Macarthur is perhaps best known for the prominent part she played in the women chain makers' strike in Cradley Heath, Staffordshire in 1910. This heroic dispute ended with the women receiving the minimum wage that was theirs by right. It was a triumph, but by no means an isolated one. Mary Macarthur, as leader of the country's all-female general trade union, the National Federation of Women Workers, travelled the length and breadth of the country making sure that women's lives were improved by better pay and working conditions and union membership.
This biography seeks to understand what motivated this extraordinary individual and why she chose the path that she did, particularly at a time when it was still far from common for a middle-class woman to appear on public platforms. In other words, this is not just an account of Mary the union leader but of Mary the woman – of her travels and friendships, love and marriage, family and motherhood – all explored within the context of her times. 
'Righting the Wrong' can be ordered here
Alternatively you can order it from me on this website – see Bookshop
Some comments from reviews of National Federation of Women Workers:
June Hannam, Labour History Review, Volume 80, Number 2, 2015, pp 208-10:
'This is a graphic and often moving account of the low pay, long hours, and, in many instances, dangerous working conditions experienced by women who faced hostility from male workers as well as from employers'.
Sarah Hellawell, Economic History Review, Volume 68, Number 2, May 2015:
'This well-written book provides an original account of women's trade unionism and joins the growing historiography that links labour and women's history to illuminate the hidden lives of working women in twentieth-century Britain'.